In this guide, we are going to disclose, how to participate in Silicon X IEO held on Emirex.
Last updated June 24, 2021
It is simple to participate in Silicon X IEO on Emirex.
Go to section for participation in Silicon X IEO

Then you need to login on Emirex account or if you don't have it, please create it.
How to create new account on Emirex, it is written here
Note: You can find all the information about the project, the address of the project website and links to social networks on the IEO page of the project.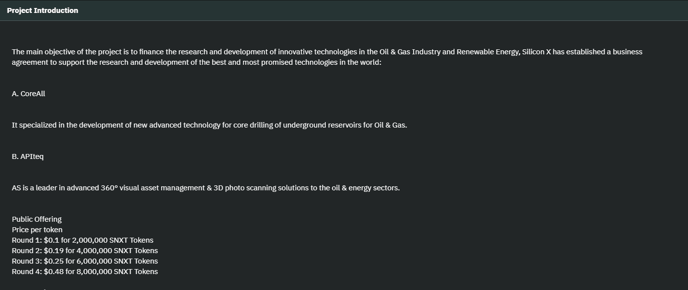 Note: for participation in IEO, you have to pass verification on Emirex and get at least Starter level.
How to verify your identity is written here
After passing verification and getting Starter level, login in Emirex account on Silicon X IEO page, enter the number of tokens/coins you would like to purchase, and proceed with clicking on BUY button:

The price per token/coin is specified in Price per unit field:

As you can see for SNXT token it now makes 0.19 USDT
Note: There is zero fee for purchasing SNTX token on IEO.
The Total line shows the sum you need to complete the purchase:

Then press BUY.

Tokens will be credited to your wallet on Emirex.
Note: Tokens/coins purchased on Silicon X IEO are locked until the end of the IEO.
If you have any questions regarding IEOs, feel free to contact us on support@emirex.com. Or simply create a ticket via the form.