Deposit funds into your Emirex account using Bank card
Last updated October 23, 2020
Deposit funds into your Emirex account using a debit/credit card in a few simple steps described below. But first, please make sure to have sufficient card balance.
Note: Currently we are only able to accept Mastercard/Visa/Maestro Debit & Credit card payments. We also do not accept any card payments from the countries in the list.
Make sure that your card is not a business, prepaid, or a gift card.
Caution: Please make sure the name on the card matches the name of the account holder. In case the name of the cardholder and the account owner is different, the deposit will be declined.

Once all is confirmed, here is what you need to do:
Log into your Emirex account and click on «Assets» - «Deposit & Withdraw» on the top of the page.

Choose any of the three fiat currencies available on Emirex at the moment.

Note: You can use a Mastercard/VISA/Maestro denominated in any fiat currency. However, the funds that you send will be converted into the Emirex available currency of your choice.
3. Once the fiat currency is selected, press the «Deposit» button above and then click on the «Credit/Debit card» button. Then enter the amount you would like to deposit and click «Process Payment».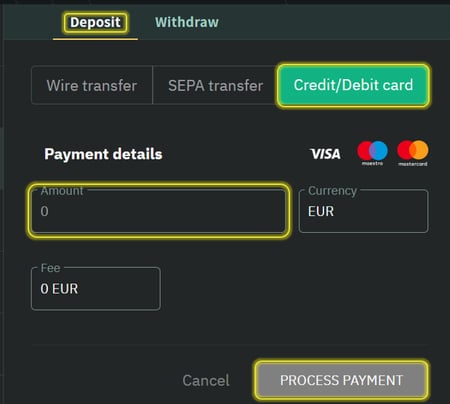 Note: We make every effort in order to lower the fees for our customers and make the deposit/withdrawal process as swift as possible.
4. Next, you will see the below form on your screen. Fill in all the required fields and then click «Process Payment».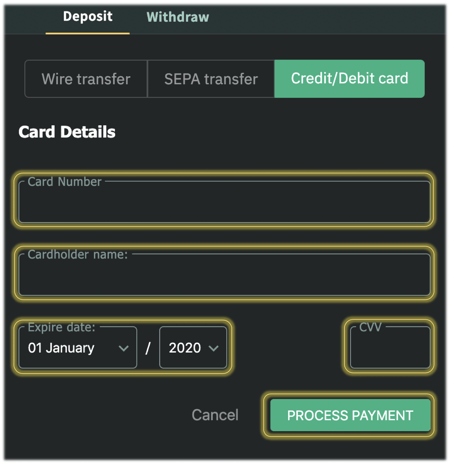 5. The 3D Secure page will appear. Please authenticate yourself to the issuing bank by entering the password or a one-time PIN that sent on your mobile.
Note: 3D Secure reduces fraud. It protects Emirex customers' credit cards against unauthorised use.
Please find below a sample 3D secure form, for illustration purposes. However, please note that your issuing bank's form may differ from the one posted below.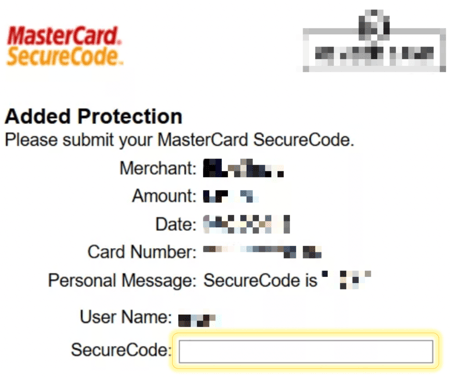 6. A few seconds later you should see the transaction approval notification:
Congratulations! You have successfully funded your Emirex account and are now all set for trading at our platform!