Here you will find an instruction on how to make a deposit on Emirex via SEPA transfer quickly and safely
Last updated June 16, 2021
Depositing fiat into your Emirex account consists of several steps and requires careful handling. Read this manual thoroughly to prevent delays in transferring your funds.
Caution: Make sure that the name on the bank account from which you are making a deposit matches the name on your Emirex account. Otherwise, your transfer will be returned back, and a transfer fee will be charged.
First of all, confirm that your bank supports SEPA transfers before sending funds.​ Customers from the UK will have to make an international SEPA transfer, otherwise the IBAN will be invalid as the length is incorrect.
Caution: If you mistakenly sent a SWIFT transfer within the SEPA zone (use SWIFT IBAN instead of SEPA IBAN), an additional fee is charged for manual processing of the transfer.
1. Log into your Emirex account and click on «Assets» - «Deposit & Withdraw» on the top of the page.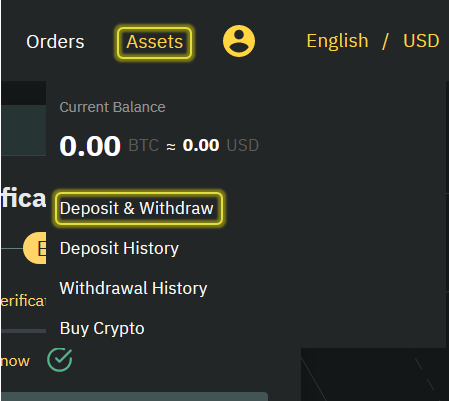 2. Choose "Euro".
Note: Only send deposits denominated in EUR. SEPA only support transfers in EUR. If you send another currency (e.g. USD), the transfer will be rejected by our system and will be automatically returned to your bank account.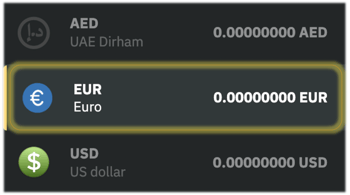 3. Click "Deposit". From the options on the top of the form, select the "SEPA" option.
Note: If your bank account is outside of SEPA zone, then you can use International Wire Transfer (SWIFT).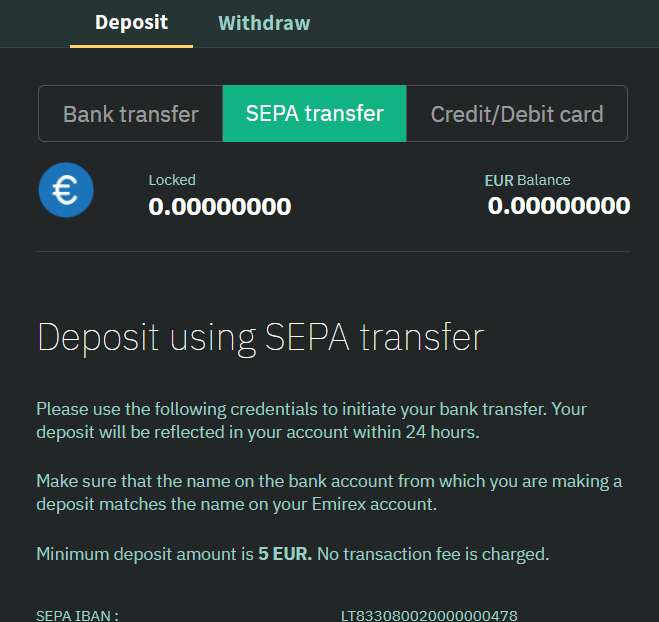 Caution: Please note that if your payment is less than 5 euros, your funds will not be refunded.
4. Initiate a SEPA transfer from your bank using the given bank details and your personal reference code. Do not add anything other than your reference code in the transfer's message.

Caution: Always mention your reference code during the transfer. If you do not mention it, processing of the transfer may take much longer than the specified period.
If you have made a deposit and it has not been credited to your Emirex account after three business days, contact us on support@emirex.com.